Testingfg of Ads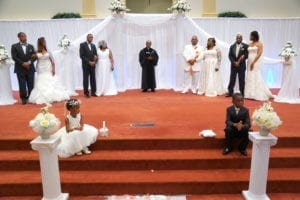 A mass wedding ceremony was held on June 11 at Antioch-Lithonia Missionary Baptist Church, 2152 Rock Chapel Road, Lithonia. The ceremonies were performed for a group that included newlyweds as well as married couples who wanted to renew their vows.
"It was a very moving experience to see all of those couples sharing their faith and their wedding vows before their families and friends," said Pastor James C. Ward, Antioch-Lithonia's senior pastor.
Pastor Ward, who performed the wedding, said the church provided flowers, decorations, the programs, music and a cake and punch reception at no cost to the couples.
"It was very beautiful. The volunteers did an outstanding job. A lot of young people want to get married and have a church wedding and their pastor perform the wedding, but they can't afford it. This was our way of giving back and supporting them," said Pastor Ward, who said the church decided to do the mass wedding in June because it is one of the most popular months for weddings.
Patti Clark Brawner and her new husband, Robert, were thrilled to be part of the experience.
"It was beautiful, just a great experience," said Patti Brawner. "What was nice is that it didn't feel like a mass wedding. Each couple said their individual vows so that was sacred and special. At the reception, we decorated a table for our own families and that made it intimate. I am really glad that Pastor Ward held the ceremony because it was definitely a blessing of not having the big expense of a wedding."
Brawner said several of her family members attended as well as her husband's family members. Brawner has been a member of Antioch-Lithonia since 1991.
Pastor Ward said communion was provided during the wedding ceremony. The couples included Gail and Kent Boyd; Saretha G. and Eddie P. Bradley, Jr.; Pattie Clark and Robert Brawner; and Adrienne C. Pritchett and Minister Maurice Myers. Photos Special to OCG/News David Washington