Testingfg of Ads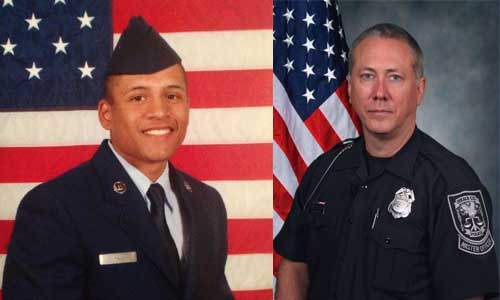 Delay angers veterans' group, community activists
By Valerie J. Morgan
A veterans group and community activists in DeKalb County are demanding answers in the Anthony Hill murder case as Hill's fatal shooting by former DeKalb police officer Robert Olsen approaches its four-year anniversary.
The case hit another delay with the news that the trial, scheduled for Feb. 25, is now set for Sept. 23.
Hill, a 27-year-old U.S. Air Force veteran who served in Afghanistan, was shot and killed on March 9, 2015 by former Olsen. Hill was naked and unarmed when he was roaming outside of his Chamblee apartment complex and Olsen responded to a 9-11 call. Hill's family said he was not taking prescribed medication for his bipolar disorder, when Olsen shot him. Olsen has been charged with Hill's murder.
Retired Lt. Colonel Amos, who heads Justice for Veterans, was angry when he heard the news that the trial had hit another snag. Amos questioned why three judges recused themselves two weeks before the trial was to begin in February. DeKalb Superior Court Judge J.P. Boulee, who was presiding over the case, was the first to step down, saying he wanted to "avoid the appearance of partiality" because he had made a monetary donation to an event associated with District Attorney Sherry Boston. Judges Courtney Johnson and Asha Jackson followed, saying they wanted to avoid any appearance of impropriety," according to recusal orders. The order did not specify what the conflict concerned.
Judge Latisha Dear-Jackson was appointed after the three other judges stepped down. Dear-Jackson, who was elected last year to succeed Daniel Coursey, has said she knew little about the case.
"Why are the three other judges who recused themselves still sitting on the bench and presiding over ther cases? If there is impropriety, they shouldn't be handling any cases before the DeKalb District Attorney," said King.
King said DeKalb citizens should be outraged.
"This is ridiculous. It's crazy. The citizens should be outraged over this. They are going to have to look at who they are electing for judges," King said. "This is so unfair to Mr. Hill's family."
The DeKalb NAACP said Hill's family has been denied justice.
"Four years and still no trial. The saying, 'Justice delayed is justice denied' describes this situation perfectly," said Teresa Hardy, who heads the DeKalb NAACP branch.
Hardy said the NAACP fully understands the family is "devastated" over the delays.
Several civil rights activists say they are planning protests, including one outside the DeKalb County Courthouse in downtown Decatur on March 8 and 9.