Testingfg of Ads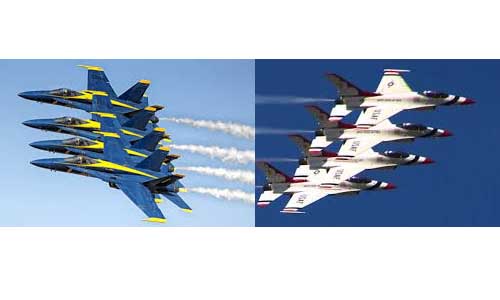 Navy Blue Angels , U.S. Air Force Thunderbirds
to pay tribute to first responders    
ATLANTA – Residents in metro Atlanta can look toward the sky on Saturday, May 2, for a spectacular performance by the U.S. Navy's Blue Angels and the Air Force's Thunderbirds. The military salute will honor frontline COVID-19 responders and essential workers.
In addition to Atlanta, the flyovers also will be held in Baltimore and Washington, D.C. on Saturday, and in New York City and other cities in the Northeast on Tuesday, April 28.
"America Strong is a way for both teams to show appreciation to the thousands of doctors, nurses, first responders and essential workers out there serving on the frontline day-in and day-out," said Cmdr. Brian Kesselring, U.S. Navy Blue Angels commanding officer and flight leader for the salute. "This is an extraordinary and unprecedented time but we will get through this. We are all in this together."
Flyovers in Atlanta will start at 1:35 p.m. (EDT) and last approximately 25 minutes.
Flyovers in Baltimore will start at 11:30 a.m. (EDT) and last approximately 15 minutes. Flyovers in Washington D.C. and surrounding communities will start at 11:45 a.m. (EDT) and last approximately 20 minutes.
Residents in these areas will be able to see the flyover from the safety of their home and  and should maintain all social distancing guidelines during this event if away from home. Residents should refrain from traveling to landmarks, hospitals and gathering in large groups to view the flyovers.
"The past several weeks have been filled with changes most of us have never seen in our lives," said John Cowman, President of JLC AirShow Management.  "As we look to the future, careful consideration has been given to incorporating procedures and guidelines to host a safe and exciting event.  We will continue to make adjustments toour plans as new guidelines are issued by local, state, and national authorities."
The Thunderbirds are scheduled to perform in their six signature red, white and blue F-16 Falcons.  The military demonstration team is internationally known for its hard-charging demonstration of precision formation flying while pushing their fighter aircraft to the limit.
Opening ceremonies for both days of the air show will begin with the U.S. Army Golden Knights Parachute Team.  The elite group of skydivers will launch the start of aerial performances during the national anthem and will later return for a full demonstration highlighting the skill and expertise of the world's top military parachutists.