Testingfg of Ads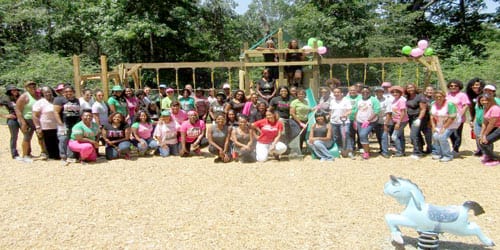 Lambda Epsilon Omega (LEO) and Upsilon Alpha Omega (UAO) chapters of Alpha Kappa Alpha (AKA) Sorority Incorporated partnered with the local community to revitalize the playground at Greenforest Christian Academy in South DeKalb County.
More than 20 volunteers assisted in the efforts by installing a new playground, painting and cleaning the pavilion area, community benches and surrounding grounds.
The service project is a part of AKA's international program, Target IV Environmental Ownership. This target was created to ensure children have safe and inviting places to play. The AKA 1908 Playground Project℠ will restore and renew 1,908 existing community and school playgrounds with its Restore, Refresh and Renew Project.℠
"I have been a member of AKA since 1978, yet to be a recipient of the community service provided by the sorority completely caught me by surprise and truly touched my heart," said Millicent Black, headmaster of Greenforest Christian Academy. "Having the women of UAO and LEO come out in large numbers and partner with the community to improve the playground at Greenforest Christian Academy will have a huge impact on the children at the school as well as those in the community."
"We were proud to lend a helping hand to revamp the playground and surrounding play areas at Greenforest Christian Academy for students to enjoy for years to come. Our organization is committed to environmental ownership and enhancing the quality of life for our local community," said Betty Stuckey, President of Lambda Epsilon Omega. "It was such an honor to focus our efforts on young people. I would like to extend my sincerest thanks and appreciation to the local residents who joined us for this project."
"There's a fire that arises within the women of UAO the moment an event arises for us to roll up our sleeves and encourage community support in making a difference locally," said Andria S. Daniels, President of Upsilon Alpha Omega. "That opportunity came with the implementation of Alpha Kappa Alpha Sorority, Incorporated Restore, Refresh and Renew Project℠. We were able to purchase a new playground for the students at Greenforest Christian Academy that ensures they will have a safe and inviting space to play."
The AKA 1908 Playground Project℠ was a perfect opportunity for the women of Lambda Epsilon Omega and Upsilon Alpha Omega to come together and create a safe and fun place for children to play. This International Target had a major impact in metro area with the work of its 16 chapters, but also members of the sorority throughout the U.S. and abroad all mobilized on our International Impact Day to enhance playgrounds around the world.