Testingfg of Ads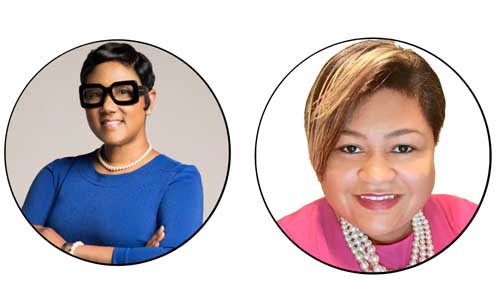 District 7 Commissioner Lorraine Cochran-Johnson                Patrina King
DeKalb County District 7 Commissioner Lorraine Cochran-Johnson will host the second installment in her Books & More Women's Empowerment Club Series  on Saturday, July 20, noon to 2 p.m., at the Smoke Rise Country Club, 4900 Chedworth Drive,Stone Mountain.
The Women's Empowerment Book Club will feature seasoned golfer and founder of Golf Women Mean Business, Patrina King, who will share her advice on what it takes to be successful in business from the teachings in her book, "9 Holes 9 Goals, A Beginner's Guide to Doing Business on the Course."
"I know that getting to the 'deal' requires more than just knowing how to play golf," King said. "There are specific steps that need to be taken in order to make your business golf round worth your time and investment."
Cochran-Johnson said the Books & More Women's Empowerment Club is a three-part event that gives attendees an opportunity to network, engage in educated discussion, and glean life and career advice from expert authors.
"It is important that I continue to build upon the seven priorities that I believe will bring about positive change to the citizens of the seventh District," said Cochran-Johnson. "The Women's Empowerment Book Club touches upon three: economic development, job creation, and entrepreneurship. It is my hope that attending one of the events and reading the books of these experts will spark action that will propel the attendees towards success."
Attendees will get an introduction to helpful steps to succeeding, a signed copy of King's book, tea, hors d'oeuvresand advice on how to improve their golf swing. Registration is $35 per person.
To register,  visit http://bit.ly/2RpZdZD. For more information, call 404-371-3681 or email Allison M. Slocum at amslocum@dekalbcountyga.gov.