Testingfg of Ads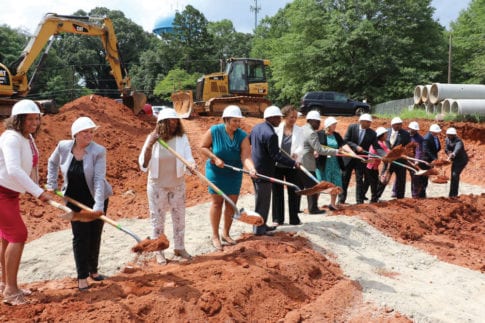 DeKalb County officials joined community partners on June 29 to break ground on a project that has been 10 years in the making—Sterling at Candler Village, a South DeKalb apartment complex that will provide subsidized independent living for seniors.
After 10 years of planning, the $25 million project is finally getting under way at 1955 Candler Road, said Sharon Guest, project lead for The Benoit Group (TBG), the developer.
"We're very excited to be here," Guest told officials at the groundbreaking ceremony. "When I was working with the DeKalb Housing Authority in 2011, it (the project) kept getting resuscitated then it would go back into its coma-like state… It was part of a master plan for South DeKalb—to work with the South DeKalb Senior Center along with the Candler Library."
Guest said it took time for the DeKalb Community Development Group to find the needed community partners and finances to pull off the project. The project, she said, was funded with tax-exempt bonds issued by the Housing Authority of DeKalb County, a HUD 224 fixed rate loan serviced by Capitol One, a home loan from the DeKalb County Community Development Group and subsidies for the units that will be offered in partnership with the Housing Authority of DeKalb and the Atlanta Housing Authority.
"This is collaboration at its best, in terms of private and public partnerships. If it were not for all of these members from both the public and private sector, this project would not be where it is today," Guest said. "Sterling at Candler Village will be a development that will help decrease the gap for affordable senior housing in South DeKalb."
True North Construction plans to complete the project by fall 2018, said Pierce Walker, development coordinator for TBG.
The complex will be comprised of 170 apartments for seniors ages 62 and older earning below the area median income. About 70 percent will be one bedrooms, the remainder will be two-bedroom units. The apartments will be located in two four-story buildings. Amenities include Energy Star appliances, a state-of-the art community room, fitness center, computer center, outdoor gathering and seating areas, picnic shelters and grills and community gardens.
"The building is just one facet of the development. The care of our seniors is the most important. That's what makes a development a community," Guest said. "TBG wants to ensure maximized living for our seniors. Our property management entity, Dorchester Management, and our nonprofit arm, Social Expressions, will help facilitate health and wellness, education and independency for our seniors."
       DeKalb County Commissioner Larry Johnson, District 3, said he pushed for years to bring the development to his district, starting "four CEOs ago" with DeKalb CEO Vernon Jones.
"The goal was to have a live, work and play community for seniors so seniors could walk, learn and have social activities in one setting. This is going to be a great catalyst for this community," Johnson said.
DeKalb County CEO Michael Thurmond praised Johnson, whom he called one of his "heroes" and a dedicated public servant, and all of the community partners for their work on the project.
"This is a great, great day for DeKalb and metro Atlanta, and really for humanity, when all of us can come together and provide affordable housing for citizens who deserve it most, the citizens whose shoulders we stand on," Thurmond said.