Testingfg of Ads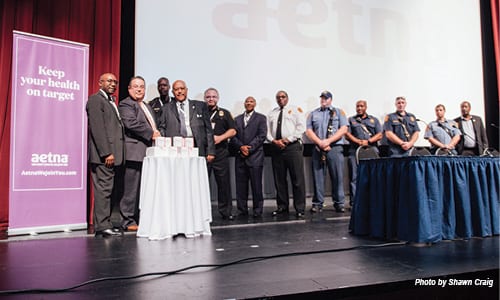 The Aetna Foundation donated $15,000 worth of Narcan kits to the DeKalb County Department of Health at the second annual Opioid Summit, which was held on July 26 at the Porter Sanford Performing Arts Center, 3181 Rainbow Drive, Decatur. 
The half-day summit featured 20 speakers—from social advocates and health officials to policy makers and nonprofits. 
The Narcan kits, containing 408 doses, will be distributed by the DeKalb County Department of Health to first responders to combat the opioid epidemic across the county.
 "Opioid abuse and overdose is one of the most urgent public health crises facing our community today," said DeKalb County Commissioner Larry Johnson, who co-hosted the opioid summit with Stand Inc. "Narcan saves lives, and we need a ready supply. This donation equips our first responders with an increased supply to prevent fatal opioid overdoses in DeKalb County."
Narcan kits contain nasal syringes prefilled with naloxone, which blocks or reverses the effects of opioids.
The Georgia Department of Public Health reports that from 2010 to 2016, the total number of opioid-related overdose deaths statewide increased by 117 percent, from 426 to 929 deaths.
"It is our honor to support DeKalb County's efforts in the fight against the opioid crisis," said Frank Ulibarri, vice president and market president for Aetna in Georgia. "Nearly a thousand Aetna employees call Greater Atlanta home. This issue is close to our hearts, and we know that real solutions have to be brought to bear in their local communities if we are going to fight this effectively. These kits in the hands of our first responders will save lives."
Aetna Inc. and the Aetna Foundation are confronting the unprecedented opioid crisis both through business practices and strategic philanthropic giving initiatives – tackling the issue from the ground up by collaborating with local communities and making focused interventions to members and provider partners along the entire spectrum of risk, misuse, dependence and recovery.