Testingfg of Ads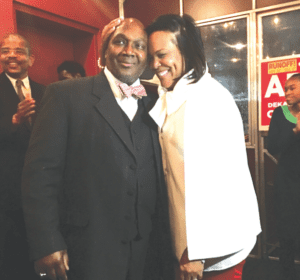 Gregory Adams says he plans to attend his first meeting as DeKalb County's newly-elected Super District 7 commissioner on Dec. 13.
Adams, an Emory University police officer who has never before held public office, received 3,539 votes (52.24 percent of the 6,790 total votes), beating his opponent, Randal Mangham, a former state legislator who received 3,236 votes (47.7 percent), according to unofficial results from the DeKalb Supervisor of Elections Office.
Adams thanked his wife, family and supporters for their hard work on his campaign.
"I would like to extend my deepest gratitude to my wife of 36 years, Jacqueline Adams, and our six children for pushing me and believing in me throughout this campaign," said Adams. "Additionally, I would like to thank those who were sound supporters of our campaign, including, but not limited to: the love of my life, Jacqueline Adams, Commissioner Larry Johnson, Councilwoman Anne Lerner, Representative Karla Drenner, Sheriff Thomas Brown, Superior Court Clerk Debra Deberry, Mayor Donna Pittman, Attorney Gina Mangham, Diane Adoma, George Chidi, Paul Maner, and our campaign consultant, DeUndre Eberhart."
Adams congratulated his opponent on a hard-fought campaign, a race that began with nine candidates vying for the seat in the general election. Adams received 26 percent of the vote and Mangham 16 percent in the nine-way race. Since neither candidate received more than half the votes, a runoff was required.
Adams said a dedicated campaign team kept him focused on his message to voters.
"Our campaign remained focused on reclaiming, reviving and rebuilding DeKalb–and that's what I plan on working with my fellow commissioners and the residents of DeKalb County to do," said Adams.
Adams said he plans to start immediately in his new position and will be sworn in as soon as the election numbers are certified.
"We have a lot of pressing issues that must be addressed so my plan is to attend the Dec. 13 Commission meeting, whether I've been sworn in or not. There was a wide enough margin that we know that I was elected," said Adams.
Adams will represent more than 350,000 residents who live in the Super District 7, which includes Doraville, Lithonia, Stone Mountain, Tucker and unincorporated DeKalb.
Adams will replace Stan Watson, who lost his bid for tax commissioner to Irvin Johnson, who was elected to the seat. Adams will join newly-elected Commissioner Steve Bradshaw, who won the District 4 seat and will replace Sharon Barnes Sutton.
Low voter turnout for District 7 runoff
No one knows for sure whether rain or apathy is to blame for the low voter turnout in the Dec. 6 District 7 runoff, but DeKalb County Elections Supervisor Maxine Daniels says she wasn't surprised that only 3 percent of the 212,000 active voters on the rolls participated.
"It's about what I expected because it was right after the General Election. They (voters) did all they were going to do by voting in the Presidential election in November," said Daniels. "They just weren't coming back in December for a smaller election. That's typical."
Daniels said each of the 101 precincts in District 7 averaged about 50 voters on election night. At one point, Gregory Adams was leading by just one vote. He had 317 votes. Randal Mangham had 316.
Also, not one voter showed up at the Clarkston precinct on election night.
"It was in Clarkston, where we didn't have anyone to come out and vote but there were only 163 voters in that part of Clarkston that were eligible to participate any way," said Daniels. "When you look at the fact that we were only averaging 50 voters at some of the larger precincts, it's not surprising that Clarkston didn't have any voters."
Adams said low turnout or not, he feels blessed that his supporters made it to the polls.
"God is good and I am so thankful. He helped me to come through this," said Adams, who is not only a police officer but a pastor as well.