Testingfg of Ads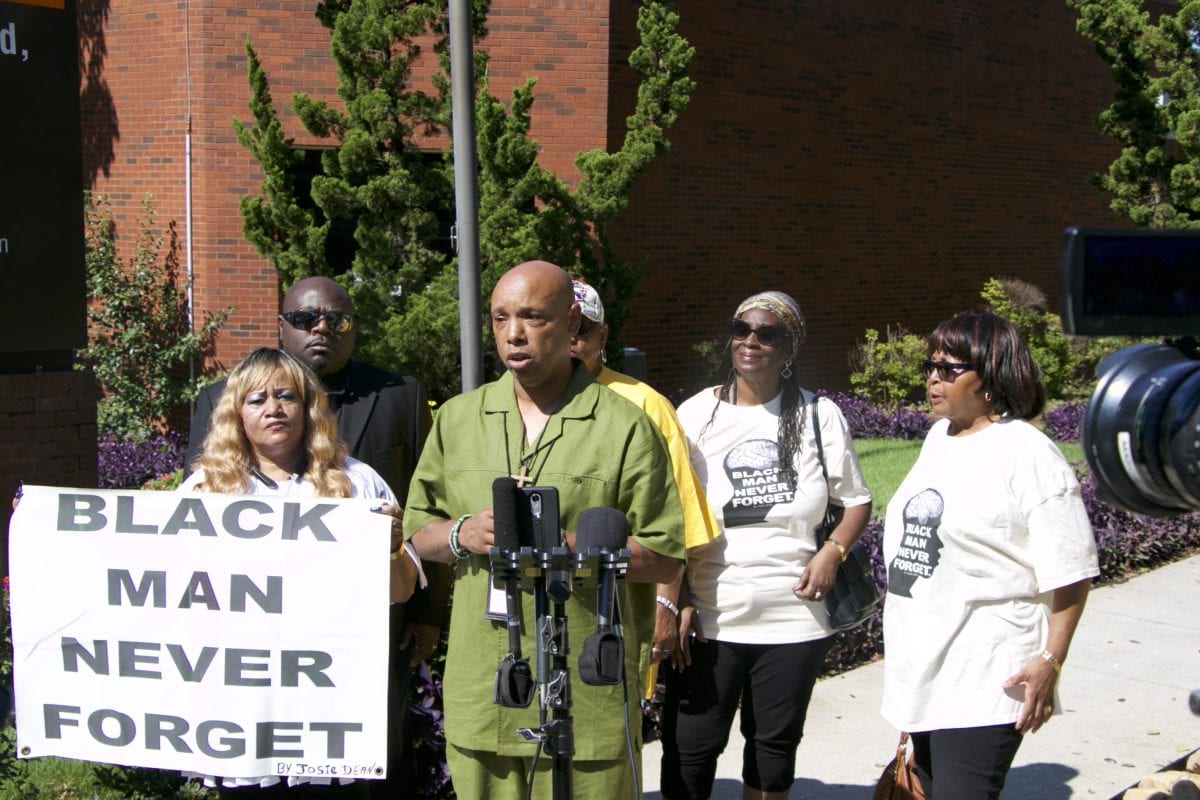 Civil rights activists condemned DeKalb County's elected officials for their silence in the case involving the DeKalb police officer who beat a homeless black woman with his baton at a convenience store on June 4.
Gerald Rose, president of the New Order National Human Rights Organization and Jose Dean of Black Man Never Forget, held a news conference on Tuesday outside the Maloof Auditorium in downtown Decatur to demand action in the investigation involving Officer P.J. Larscheid, a white DeKalb police officer who beat Katie McCrary, a 38-year-old black woman.
Rose said elected officials should be as outraged as community activists who are demonstrating. He promised to remind voters at election time of their silence concerning the case.
"This is where the problem is: We have elected officials who ask for our votes…but when things like this come about, it seems like they're not quick to make a decision," said Rose. "Even (Congressman) John Lewis came out and said something. So where is Larry Johnson? Where is Gregory Adams? Where is Michael Thurmond? Believe me: You are on alert: We're going to get to these voters."
Rose said he was outraged because the beating never would have come to light if a bystander's cell phone video hadn't gone viral. The 1-minute, 39-second video shows Officer Larscheid repeatedly beating McCrary with his baton inside the Chevron store at 3364 Glenwood Road, Decatur. Police were called to the store after the woman was suspected of asking a customer for money.
Larscheid's supervisors cleared him of any wrongdoing after reviewing his "Use of Force" report. Internal Affairs announced it was re-opening the case last week after learning of the video that went viral. Larscheid was reassigned to a desk job pending the investigation.
DeKalb CEO Michael Thurmond has asked the GBI to conduct an independent investigation. Thurmond was confronted by Rose and others outside the Maloof Auditorium today and he asked them to allow the investigation to be conducted.
"You want fairness, right? You want justice…? You all elected me to be CEO. Let me do my job," Thurmond said.
Leonard Jones, national spokesman for the New Order National Human Rights Organization, called for the officer's firing.
"We want this officer terminated and not just terminated. He needs to be tried and convicted," said Jones, who said he viewed the beating as one "where a white man completely devalued the humanity of that black woman who was at the Chevron that day. There was no reason for it to get that far."
Josie Dean said the beating reminded her of the brutality that black slaves, particularly women, routinely endured. She said the black community must stand up for itself.
"We're going to have to stand up. We can't just let them do our black women any kind of way. We've got to start boycotting and keeping our money to ourselves," said Dean.
Nathan Knight of the DeKalb SCLC is leading a boycott in front of the Chevron convenience store where McCrary was beaten. The SCLC, along with other groups, launched the boycott on Monday.
"If we don't stand up when these type of atrocities take place in our neighborhood, we're not going to have anybody to defend our rights. Black lives do matter," said Knight.