Testingfg of Ads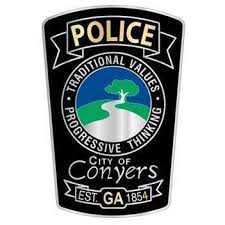 A team of assessors from the Commission on Accreditation for Law Enforcement Agencies, Inc. (CALEA®), will arrive on June 24 to examine all aspects of the Conyers Police Department's policy and procedures, management, operations and support services, Police Chief Gene Wilson announced.
Verification by the team that the Conyers Police Department meets the Commission's best practices and model policies is part of a voluntary process to gain accreditation – a highly prized recognition of law enforcement professional excellence, Chief Wilson said.
As a part of the site based assessment, agency personnel and members of the community are invited to offer comments at a public information session on Tuesday, June 25.  The session will begin at 6 p.m. and will be held at the City of Conyers Council Chambers, 1194 Scott Street, Conyers.
Individuals who cannot speak at the public information session but would still like to provide comments to the assessment team, may do so by telephone.  The public may call 770-929-4252 on Wednesday, June 26, between the hours of 1 and 3 p.m.
Telephone comments as well as appearances at the public information session are limited to 10 minutes and must address the Conyers Police Department's ability to comply with CALEA® standards.  Copies of the standards are available for viewing at Conyers Police Department Headquarters, 1194 Scott Street, Conyers.  The contact is Captain Tanya Yvette Young Perry.  Captain Perry can be reached at 770-785-6684.
Anyone wishing to submit written comments about the Conyers Police Department's ability to meet the standards for accreditation are requested to write:
The Commission on Accreditation for Law Enforcement, Inc. (CALEA®)
13575 Heathcote Boulevard, Suite 320
Gainesville, VA 20155 or www.calea.org.
The Conyers Police Department must comply with 484 standards in order to gain accredited status, Chief Gene Wilson said.  Accreditation is important because it shows that our operations, policies and training procedures meet model policies and high standards established by CALEA according to Chief Wilson.
The CALEA Program Manager for Conyers Police Department is Vincent Dauro.  He said the assessment team is composed of public safety practitioners from similar, but out-of-state agencies.  The assessors will interview individuals, and visit offices and other locations where compliance can be witnessed.
"The benefits of having an accreditation far outweigh what happens when you don't.  You don't have that written trail of paper work showing you're doing the right thing," according to Dauro.
The assessors are:  Chief Gary Vest, Powell Police Department (OH) and Assistant Chief Richard Winstanley, Hurst Police Department (TX).
Once the CALEA Assessors complete their review of the agency, they report back to the full Commission, which will then decide if the Agency is to be granted accredited status, Dauro stated.
Accreditation is for four years, during which time the agency must undergo a remote review of files annually, submit annual reports, attesting continued compliance with those standards under which it was initially accredited.
For more information regarding the Commission on Accreditation for Law Enforcement Agencies, Inc. please write the Commission at:
The Commission on Accreditation for Law Enforcement, Inc. (CALEA®)
13575 Heathcote Boulevard, Suite 320,
Gainesville, Virginia 20155
or call 800-368-3757 or (703) 352-4225 or email calea@calea.org