Testingfg of Ads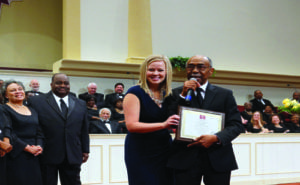 Antioch-Lithonia Missionary Baptist Church recently welcomed maestro Heather Sorenson for a concert that featured her music, Antioch's James C. Ward Chorale and the Covington/Conyers Choral Guild, Inc.
The internationally-known Christian music producer who has appeared at Carnegie Hall, Lincoln Center and Constitution Center brought together the two choral groups after leading a music clinic in Covington. Under Sorenson's direction, the groups performed as if they had been singing together every Sunday, drawing standing ovations from Antioch's congregation.
"It was an honor to get her. She's among the top 3 or 4 pianists in the world. It was like having a Mozart or a Bach performing in our church," said Antioch's Pastor James C. Ward.
One of the pieces the combined choir sang during its May 22 concert at Antioch was entitled "O Sing Unto the Lord," a piece written by Pastor Ward, an accomplished musician in his own right who minored in music at Morehouse College, where he received degrees in Philosophy and German.
Sorenson said she re-arranged "O Sing Unto the Lord" after Pastor Ward asked her to take a look at it. Sorenson announced to the congregation that she liked the neo-classical piece so much that she plans to publish it through her company, Shawnee Press/Hal Leonard, which provides high quality sheet music to churches, schools, bands and orchestras.
"Composing and arranging music are natural expressions for me. This was really a special piece that I enjoyed and I believe others will enjoy as well," said Sorenson.
Pastor Ward said he actually wrote the song years ago and put it away in a box with others he has written.
"Sister Heather simplified it and made it so that the average church choir could sing it," said Pastor Ward, who got his foundation in classical music under the tutelage of a teacher who taught history at the black school in Abbeville, Alabama where his father was principal. "They couldn't hire music teachers back then. She was our history teacher but she taught us music as well. From her, we learned about modulation, how to change keys in a song, music history and so forth. I kept thinking where am I going to use any of this in life? We didn't even have a piano in our home. My brother and I had to go to the church to play. Then one day, Daddy made the decision to buy us a piano, instead of the lawnmower he needed, telling us we'd better make good on his investment."
Pastor Ward said his humble beginnings helped to prepare him for the music world he discovered when he went off to college. There, he sang in the Glee Club and fell in love with classical music.
"I had the chance to see musical instruments like the oboe, which I had only read about, coming from a small town," said Pastor Ward, who encourages a variety of Christian music at his church.
Pastor Ward said he met Sorenson about five years ago at a music symposium for composers and their paths crossed several times after that. When he learned that Sorenson was in the Atlanta area recently, he invited her to his church.
"I showed her some of the pieces I had composed and wanted guidance," said Pastor Ward. "We worked together on "O Sing Unto the Lord" and she just fell in love with it."
Pastor Ward said he was inspired to write the song based on Psalm 96.