Testingfg of Ads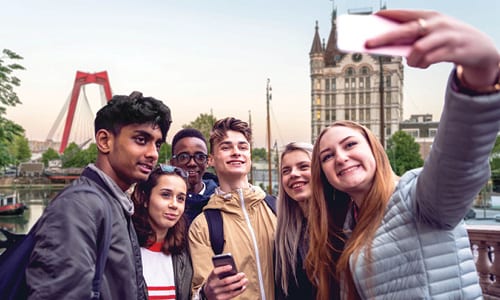 AAA is sponsoring a trip to Europe for 60 eighth grade students who submit the best answers and a selfie for its "Discovery Crew" cruise.  Contest winners will receive free round-trip airfare to Amsterdam, travel insurance, money for passports, and a seven-night river cruise—including all meals and excursions—  through the Netherlands and Belgium.
Students in Georgia, Florida, Iowa, Michigan, Nebraska, North Dakota, Tennessee, Wisconsin and select areas of Illinois, Indiana and Minnesota are eligible to enter for a chance to win the trip at AAA.com/DiscoveryCrew. The deadline to enter is Sept. 21, 2018.   
 "Many young students dream of taking a trip like this," said Deborah Haas, vice president, Travel Products and Services, AAA – The Auto Club Group. "AAA is excited to team with our travel partners, AmaWaterways and Allianz, in making this trip a reality for enthusiastic young travelers. The knowledge these students gain will help shape their future, while building new relationships and memories that will last a life time."
In addition to residency requirements, students must be:
• Entering the 8th grade in good standing
• At least 13 years old
Students can confirm eligibility when visiting AAA.com/DiscoveryCrew.
Winners will be selected based on:
• A creative selfie, showcasing their love for travel.
• Their answers to three essay questions:
• Why do you want to go on this trip?
• How do rivers affect the communities through which they run?
• During the trip, you'll meet many people. In what ways do you expect the people you meet to be similar to and different from yourself and your friends and family?
Winners will be notified beginning in October. Winning students will bring one parent or legal guardian to serve as a chaperone. Each pair will share a stateroom while sailing on AmaWaterways' "AmaDante" river cruise ship, from March 28 – April 4, 2019.
"This is an unbelievable opportunity for students," Haas said. "We encourage any and all eighth graders who have a passion for learning about other destinations and cultures to enter this contest."