Testingfg of Ads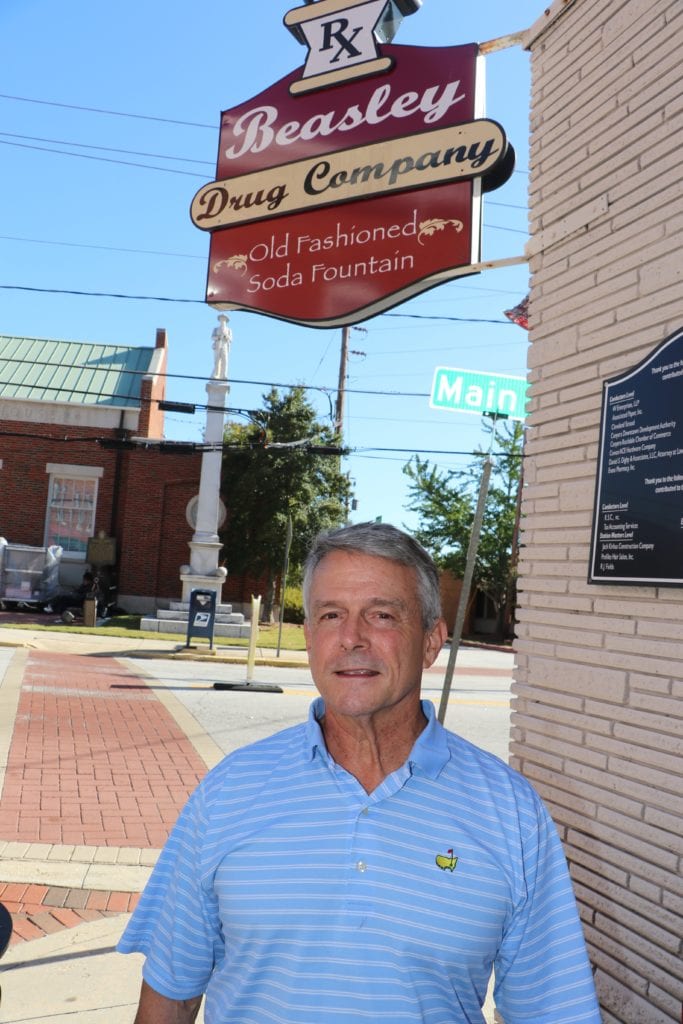 The long-time business owner and city councilman is vying to become Conyers' new mayor.
Vince Evans easily rattles off a list of civic and business organizations that he's given time to over the years—ranging from the Boys & Girls Club to the Conyers/Rockdale Chamber of Commerce. Evans says he believes in building up the community and he's hoping to take on an even greater leadership role as he makes a bid to become mayor of Conyers.
Voters in the city of Conyers are preparing to elect a new mayor to succeed Randy Mills, who, after serving 20 years, is not running for re-election, leaving the political arena to spend more time with family.
Evans, who has served 18 years on the City Council (the last eight as mayor pro tem), says he's well prepared to take the helm and he's hit the ground running to persuade voters.
"I think I'm the most qualified person who's in the race," said Evans, who is facing two challengers who have never held public office. "I feel like I have paid attention to things. Between my experience as a business owner, time serving on community boards, and opportunity to learn how government works, I feel I am best suited to serve. However, more importantly, I am looking forward to the opportunity to make some changes that are representative of the community. "To me, if I were voting for somebody, I wouldn't want somebody to go straight to the top spot without having learned how government works on the council first," Evans said. "It is so important to me to be in the role of mayor because you want somebody you can trust, somebody who has the leadership qualities that can energize and motivate the council to get the most out of them, and as I said, you want somebody with experience."
Evans' signs dominate front yards along the city's Main Street. But he is not taking anything for granite and plans to continue working hard over the next few days as early voting for the Nov. 7 election gets under way. In-person early voting is scheduled Oct. 16-Nov. 1, Monday through Friday, 8 a.m. to 4:30 p.m., at the Board of Elections Office, 1400 Parker Road, Lobby C, Conyers.
Elections Director Cynthia Welch predicts a low turnout—12 percent (about 1,000 of the city's 8,000 registered voters). The mayoral election, she said, likely will be a close race.
"It will be hard for a lot of people to get to the polls because of the hours and in addition to that, there is no Saturday voting," said Welch. "The candidates are going to have to work hard to get people to go to the polls." "You're talking about a race that's going to be decided by 800 to 1,000 people. You're going to have Rockdale residents who show up who do not live within the city limits and are ineligible to vote in the municipal elections."
Evans, who has lived in Conyers for 38 years with his wife, Cyndi, and raised two children who are now grown, is hoping the relationships he has developed in Conyers over the years will propel him to victory. As owner of Evans Pharmacy for 30 of those years, Evans says he's gotten to know hundreds of families who have stopped by to fill prescriptions or grab an ice cream at the iconic old-fashioned soda fountain store, which is located on Olde Town's Main Street. Although Evans recently sold the pharmacy (now called Beasley Drug Company), he still works there under the new owner.
"I like to compare the work that I do at the pharmacy to my work on the council because as a pharmacist, you listen to the needs of the people and you try to address their needs and concerns as best as you can. That is much like my role on the council—being a good listener and addressing concerns."
Evans said along with being a good listener, he believes he has the vision to guide the city's future. "The decisions that we make over the next four years will have a huge impact on who Conyers is and over what we look like 15 to 20 years from now," Evans said.
Evans said if he elected, he would continue to make public safety a top priority. He said although crime has been down the last three years in a row, this year there was a slight uptick in crime due to auto thefts. But he also understands that you cannot arrest your way out of a crime problem. He said he will ensure that officers are equipped and trained to ensure the community is safer, and he will continue to work with initiatives such as the Drug Free Community project to educate citizens, encourage prevention, as well as build relationships between citizens and officers with programs such as Coffee With A Cop.
Evans said he also plans to push for more funding for improving neighborhood parks and look at ways to make city boards more diverse.
"We haven't done as good a job as we could in inviting people to the table, to serve on the city's boards, to make it more reflective of the community. We need to promote the meetings on the city's web site and have an application process online," Evans said.
When asked at a recent forum if he would consider naming one of the city's street for Dr. Martin Luther King, Jr., Evans said "absolutely."
"The bigger question is why haven't we had one before. There are streets in cities all over the United States but we do not have one and we're 30 minutes from his home and church," said Evans.
Evans also said he would look at ways to bring more businesses into the city. He said he would fall back on his experience as a business owner to develop relationships with other business owners to shape ordinances that help maintain standards for all businesses. However, he also remembers how hard it is to get a business off the ground, so he said he ill continue to examine how to make it easier for new businesses to gain a footing in the community.
"I will have a greater sense of urgency for things to be done. There are times when government tends to go very slowly. There are some things that take a long time that shouldn't take a long time," Evans said. "I'm going to push the reset button and kick it up a notch."