Testingfg of Ads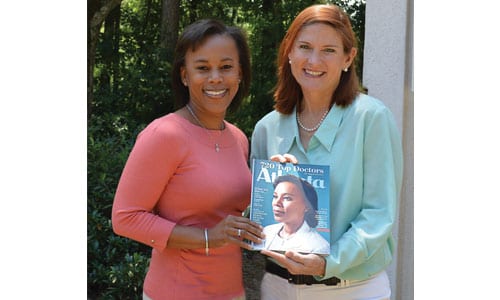 Ninety-four physicians on the DeKalb Medical staff were named "Top Doctors" in the July issue of Atlanta magazine.
Dawn Mandeville, MD of Atlanta Obstetrics and Gynecology in Decatur, was featured on one of the magazine's four covers.
"I feel very fortunate to be recognized for doing something that I love," said Mandeville, pictured left with Catherine Bonk, MD, also from Atlanta Obstetrics and Gynecology.
"Our medical staff has been well- represented on this list in the past," said Bob Wilson, President and CEO, DeKalb Medical, "but this year, we have 94 doctors recognized by other doctors, here and around the region. We continue to attract many of the best physicians in Atlanta. They are invaluable partners in our commitment to earn our communities' trust and deliver exceptional patient care."
Atlanta magazine's Top Doctors list was compiled by Castle Connolly Medical Ltd. whose physician-led team of researchers follows a rigorous screening process to select top doctors on both the national and regional levels. Castle Connolly seeks nominations not only of physicians who excel in academic medicine and research but also, most importantly, those who exhibit excellence in patient care.