Testingfg of Ads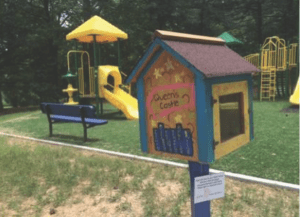 The DeKalb County Department of Recreation, Parks & Cultural Affairs is installing book boxes, sometimes called little libraries, in several parks to increase literacy and promote a love of reading.
The primary goal of this initiative is to increase literacy by providing the exchange of free books in the local communities. Patrons are encouraged to take part in this free program, which allows readers of all ages to borrow, take or drop off a book for future usage.
"This project brings books to neighborhood parks to make them more accessible for our youth," DeKalb Interim CEO Lee May said. "Now, children won't have to wait to go to school or the local library to get a book to read."
The PNC Financial Services Group Inc. and various DeKalb County Friends of the Park groups have committed to sponsoring the installation and maintenance of the book boxes.
"Reading in the park is a great way to not only exercise the mind but also engage in physical activity for your body as well," said Roy Wilson, director of the Department of Recreation, Parks and Cultural Affairs Department. "Literacy and leisure is a great combination for children and adults to practice on a daily basis and with this concept our community can flourish mentally and physically."
Parks that currently have a book box include:
Flat Shoals Park
Fork Creek Mountain Park
Frazier-Rowe Park
LaVista Park
Medlock Park
Pendergrast Park
Springbrook Park