Testingfg of Ads
FEATURED EVENT
Inman Park Festival and Tour of Homes set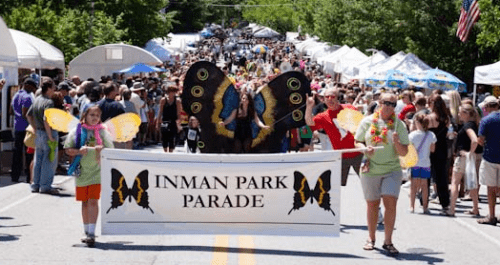 Join the historic Inman Park community for the 46th Inman Park Spring Festival and Tour Of Homes on April 29-30, 11 a.m. – 6 p.m.
The Inman Park Spring Festival features a tour of homes Friday to Sunday, street parade (2 p.m. Saturday), artists' market, live music, food vendors, and kids' activities in Inman Park. Guests are encouraged to walk, bike or catch public transportation to the event. For more information, visit www.inmanparkfestival.org.
ATLANTA
Author to discuss Modern Civil Rights Movement in Atlanta
The Atlanta-Fulton Public Library System welcomes "Historian in Heels," Dr. Karcheik Sims-Alvarado, for a discussion of her latest publication, Atlanta and the Civil Rights Movement: 1944-1968 on Thursday, April 27, 12-1 p.m., on the first floor of the Central Library, 1 Margaret Mitchell Square, Atlanta.
The book presents a well-researched pictorial history and a stunning visual record of the Modern Civil Rights Movement in Atlanta, and the courageous men and women who made it possible. A book signing will follow the program. Copies will be available for purchase. This event is free and open to the public and is sponsored by Preserve Black Atlanta and Arcadia Publishing & The History Press. For more information, email john.wright@fultoncountyga.gov or call 404-730-1896.

DEKALB
Free intro to sewing workshop set
Learn how to use a sewing machine. A free, two-part workshop will be held on Saturday, April 22, and April 22, 10 a.m. – 12 p.m., at the Toco Hill-Avis G. Williams Library, 1282 McConnell Drive, Decatur.
Jessica Harris will teach the workshops. Participants will learn about the different types of fabrics, learn how stitch by hand, practice using a sewing machine and begin working on a patchwork pillow. Teen participants are welcome. All materials will be provided. The class is open to first 10 participants. To register, call 404-679-4404 or visit the branch.
Learn about the benefits and uses of crystals and gemstones
 Enjoy a casual conversation about the history and uses of gemstones and crystals on Saturday, April 29, 10:30 – 12 p.m., at the Stone Mountain-Sue Kellogg Library, 952 Leon Street, Stone Mountain. Yvette Mashburn will present "Crystal Connection and You" and will enlighten attendees about the types, uses and benefits of gemstones and crystals. Class is limited to 10 people. To register, call 770-413-2020.
Free debt clinic offers legal consultations
 Attend a free debt clinic on Tuesday, April 25, 5:30 – 7 p.m. at the Decatur Library, 215 Sycamore Street, Decatur.
If you have been sued for a debt and you have questions, then get answers from the DeKalb Volunteers Lawyers Foundation.  Local attorneys will discuss information regarding debt cases in DeKalb County and facilitate free, one-on-one consultations. Participants should bring documentation related to their cases. For more information or to register, call 404-370-3070.
GWINNETT
Gwinnett community yard sale set
Make spring cleaning a breeze and turn unwanted items into cash at the Lawrenceville spring cleaning community yard sale on Saturday, April 29, 9 a.m. to 3 p.m., at Rhodes Jordan Park, 100 East Crogan Street, Lawrenceville.
Admission is free and indoor and outdoor space are available for $26 indoors with 8" table and 2 chairs provided; $21/outdoor space, if vendor provides his or her own table. Gwinnett County reserves the right to disallow any items inappropriate and/or oversized. The event will be held rain or shine. No refunds. For more information or to register as a vendor, call 678-277-0890.
Multicultural Festival to showcase exhibits, performances, food vendors
Gwinnett County staff from multiple departments and friends from across the globe will gather at the fourth annual Gwinnett Multicultural Festival on Saturday, April 29, 10 a.m. to 2 p.m., in the Gwinnett Place Mall parking lot, 2100 Pleasant Hill Road, Duluth.
Families can see exhibits and demonstrations, and meet county officials and police officers. They also can enjoy cultural performances, food vendors, and kids' activities such as inflatables and a dunking booth. For more information, call 770-513-5119.
ROCKDALE
Courtesy Ford to host fundraiser to benefit local animal shelters
Courtesy Ford is hosting a fundraiser to benefit local animal shelters on April 27, 5-7 p.m., at the Courtesy Ford dealership, 1636 Dogwood Drive SE, Conyers, Georgia.
Guests will enjoy food, networking, a canine fashion show and door prizes. Photo contest winners will be announced and there will also be a special appearance made by Ursula Modean, a plus-sized dog with a her own fashion line and store, Ursula's Boutique, featuring fashions specifically designed for plus-sized canines.
Attendees will also get a chance to vote for their favorite shelter pup and can even test-drive a Ford. All proceeds will support the local Rockdale and Newton animal shelters. No pets allowed. For more information about Courtesy Ford, visit www.courtesyatlanta.com.
Rockdale to host 5K Dash for Dogs fundraiser for Animal Shelter
Rockdale County Animal Control and the county's Parks and Recreation Department will team up on April 29 to host Rockdale's first Dash for Dogs 5K fundraiser at the Rockdale Government Annex building, 1400 Parker Road, Conyers.  Top male and female finishers in each overall age group will receive medals.
Participants can pre-register for the event at Johnson Park, 1781 Ebenezer Road, Conyers. Registration also is available on the day of the race or online at the county's website (in the special events section) on the Recreation and Maintenance page. The fee is $20 for pre-registered Phantom Racer (includes a T shirt); $25 for pre-registration (includes a T-shirt); $30 on the day of the (T-shirts available while supplies lasts).
Animal Care and Control will also have dogs on site for adoption. For more information, call 770-278-7529.
Volunteers needed for Great American Cleanup beautiful
Join your friends and neighbors to volunteer at Keep Conyers Rockdale Beautiful Great American Cleanup on Saturday, April 29, 9 a.m. – 1 p.m. at the Pine Log Park Pavilion, 1500 Highway 138, Conyers. For more information, call 770-278-7052 or visit www.rockdalecountyga.gov.