Testingfg of Ads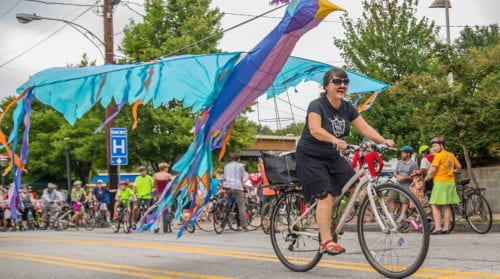 "Atlanta Streets Alive" to feature family events
Walk, run, or bike down the middle of the road when Atlanta Streets Alive comes to the Southside on Sunday, April 23, on Ralph David Abernathy Boulevard SW and Georgia Avenue SE in Atlanta.
The event kicks off at 2 p.m. with a bicycle parade and continues until 6 p.m. Enjoy biking, skating, walking and rolling down the streets while taking part in this fun, free, family-friendly event packed with free entertainment and fun activities.
For more information, visit www.atlantastreetsalive.com.
ATLANTA
46th Inman Park Spring Festival, Tour Of Homes set
The Inman Park Spring Festival and home tour will be held Saturday and Sunday, April 28-30, in the historic Inman Park neighborhood.
The festival will feature a tour of homes, street parade (2 p.m. Saturday), artists' market, live music, food vendors, and a Kids Zone fully stocked with games and activities. This event is free and open to the public.
For home tour tickets or general information, visit www.inmanparkfestival.org.
DEKALB
Join the family fun at Clarkston Culture Fest
The Clarkston Culture Fest will be held on Saturday, April 22, 10 a.m. to 4 p.m., at the intersection of Ponce de Leon Avenue and Market Street in Clarkston.
The cultural celebration will kick off with the Refuge Coffee Run at 9 a.m. (8 a.m. registration) and family and children' free fun run at 10 a.m.  Live performances will be held on the main stage featuring a variety of multi-cultural music and dance performers. The festival will include games and treats for the entire family.
A Kids' Zone will offer face and nail painting, hair braiding, inflatable bouncy castles, photo ops, carnival games and more. Local vendors will be on site selling one-of-a kind goods and food. Visit the Culture Village to learn about the city's more than 60 cultures including the countries' respective foods, clothing, language, games, music, art, dance, history and traditions.
The Children are the Future exhibit will be held at Christ Community AME Church's Adam's Center, 4154 Ponce de Leon Ave., located between Refuge Coffee and the Christ Community AME Church. The exhibit will be open during the festival as well as for a panel discussion on Sunday, April 23, 1 to 4 p.m. The festival is free and open to the public.
To register for the 5K Run/Walk, go to www.Refugeecoffeeco.com. For more about the festival, visit www.clarkstonculturefest.org.
DeKalb to host second annual Kids' Poetry Slam
DeKalb County Recreation, Parks and Cultural Affairs will present the second annual Kids Poetry Slam on Friday, April 21, 7 p.m., at Mason Mill Recreation Center, 1340 McConnell Drive.
The event will feature local poets ages 5 to 17 years of age. The public may purchase tickets online at www.dekalbcountyga.gov/parks/special-events or in person for $5. Light refreshments will be served. For more information, call 404-371-2000.
"How to Win the Money Game" workshop set
Financial expert Stanley Atwater will present "How to Win the Money Game," on Monday, April 24, 6:30 to 8 p.m., at the Stonecrest Library, 3123 Klondike Road, Lithonia. The program is part of the DeKalb County Public Library's "Money Smart Week Series."
Atwater, who has more than 30 years of experience in the financial services industry, will cover financial independence, debt management, tax law and more. This workshop is geared toward adults 18 years of age and older.
To register for the free program, visit the branch or call 770-482-3828.
GWINNETT
Earth Day Celebration returns to Coolray Field April 22
Protect your identity and Mother Earth by destroying your personal documents at a free paper-shredding event hosted by the Solid Waste Management Division and Gwinnett Clean & Beautiful on Saturday, April 22, 9 a.m. to noon, at Coolray Field, home of the Gwinnett Braves, 2500 Buford Drive NE, Lawrenceville.
The event, in celebration of National Earth Day, will allow each vehicle to shred up to five copier boxes of documents.
To volunteer to assist with this event, visit www.volunteergwinnett.net to sign up or call Gwinnett Clean & Beautiful, between 8 a.m. and 5 p.m., Monday through Friday at 678-518-6112.
Multicultural Festival to showcase exhibits, performances, food vendors
Gwinnett County staff from multiple departments and friends from across the globe will gather at the fourth annual Gwinnett Multicultural Festival on Saturday, April 29, 10 a.m. to 2 p.m., in the Gwinnett Place Mall parking lot, 2100 Pleasant Hill Road, Duluth.
Families can see exhibits and demonstrations, and meet county officials and police officers. They also can enjoy cultural performances, food vendors, and kids' activities such as inflatables and a dunking booth. For more information, call 770-513-5119.
ROCKDALE
2017 Playground Safety Awareness Week kicks off
Safe at Play will kick off its first Playground Safety Awareness Week on Saturday, April 22, 10 a.m. to 1 p.m.,Pine Log Park, 1451 Pine Log Road, NE, Conyers.
This interactive, family-friendly event will highlight the importance of playground safety while engaging the family in fun activities such as a one-mile bubble walk around nature trail, live music and entertainment, games, and a host of other activities plus lunch and free giveaways.
For more information, visit www.safeatplay.org call 678-743-5303.
Courtesy Ford hosts fundraiser to benefit local animal shelters
Courtesy Ford is hosting a fundraiser to benefit local animal shelters on April 27, 5-7 p.m. at the Courtesy Ford dealership,1636 Dogwood Drive SE, Conyers, Georgia.
Guests will enjoy food, networking, a canine fashion show and door prizes. Photo contest winners will be announced and there will also be a special appearance made by Ursula Modean, a plus-sized dog with her own fashion line and store Ursula's Boutique featuring fashions specifically designed for plus-sized canines.
Attendees will also get a chance to vote for their favorite shelter pup and can even test-drive a Ford. All proceeds will support the local Rockdale and Newton animal shelters. No pets allowed. For more information about Courtesy Ford, visit their website at www.courtesyatlanta.com.
Homeschool book group to meet April 26
The Nancy Guinn Memorial Library invites homeschoolers for a book discussion on Wednesday, April 26, 1 to 2 p.m., 864 Green Street SW, Conyers.
The book selected for the program is entitled "Fish in a Tree" by Lynda Mullaly Hunt and is not provided. Enjoy fun conversations about characters and plots and activities based around the book. This program is free and open to children ages 8 and up.
Registration is required and space is limited to 15 children. Register with the Youth Services Department or call 770-388- 5040, ext. 113.
What are essential oils and how are they beneficial?
Learn about essential oils and how to use them on Tuesday, April 18, 6 to 7:30 p.m., at the Nancy Guinn Memorial Library, 864 Green Street SW, Conyers.
The "Introduction to Essential Oils" workshop will be presented by Jodi Carson, who has been using essential oils for the past 10 years and is studying to become a certified raindrop technique specialist.
The information provided is for educational purposes only and not intended to diagnose, treat, prescribe, or cure health-related issues. This event is free and open to the public ages 18 and up.
Register with the Adult Services Department or for more information, call 770-388- 5040, ext. 118.