Testingfg of Ads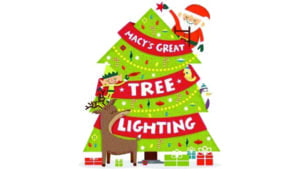 ATLANTA
Macy's Lenox Square celebrates 69th annual Great Tree Lighting Ceremony
Get ready to ring in the holiday season at Macy's 69th annual Great Tree Lighting ceremony on Sunday, Nov. 20, 6:30 p.m., 3393 Peachtree Road NE, Atlanta.
Join soul star Aloe Blacc, country artist Craig Campbell, and the multi-talented Michelle Williams with hosts Jovita Moore and Zach Klein and the Macy's All-Star Choir as they light the Great Tree in style. Macy's Great Tree Lighting Show includes live music at 6:30 p.m., the rooftop tree lighting at 7 p.m., a visit from Santa, and a fireworks show. The celebration will televised live on WSB at 7 p.m.
Central Library Children's Department offers workshop in honor of Aviation Month
Celebrate National Aviation History Month on Tuesday, Nov. 15, 10:30 a.m. to 11:30 a.m., at Central Library, 1 Margaret Mitchell Square, Atlanta. Explore facts about flying through a fun, interactive learning activity and crafts.
The program is free and open to children 3 to 12 years old. Registration is required: 404-730-1700.
DEKALB
Hike Atlanta's Hidden Forest with author Jonah McDonald
Join Jonah McDonald, author of Hiking Atlanta's Hidden Forests, for a special sunset hike on Arabia Mountain, Saturday, Nov. 19, 3:30 to 6 p.m., at the Davidson-Arabia Nature Preserve, 3787 Klondike Road, Lithonia.
McDonald is a storyteller, outdoor guide and naturalist. He looks forward to sharing his passion for the flora, fauna, and history of Arabia with fellow hikers. Hikers will get to explore McDonald's favorite Atlanta trail, the Mountain View Trail, which skirts the lakeshore at the mountain's base. The group will relax at the peak and watch the sky light up with colors as the sun sets.
The hike is free and open to the public. For more information, call 770-484-3060.
Free yoga offered at local library
 Bring your yoga mats and join teacher Andrea Redmond for a one-hour session of invigorating and relaxing yoga practice on Saturday, Nov. 19, 1 to 2 p.m., at the Stone Mountain – Sue Kellogg Library, 952 Leon Street, Stone Mountain.
Beginners and practitioners of any level are welcome. Open to first 15 participants. No registration is required. For more information, call 770-413-2020.

GWINNETT
International Thanksgiving dinner set
The public is invited to attend a free international food festival on Sunday, Nov. 13, 12 p.m., at Trickum Middle School, 130 Killian Hill Rd SW, Lilburn. There will be food, fun and music. Attendees can expect to try an array of international fare ranging from traditional American Thanksgiving foods, Mexican and Latin American foods, Indian, Chinese, Korean foods and others.
Bring your favorite dish to share or just come and sample great food from all over the world. For more information, call 770-359-9022 or visit www.di.church.
America Recycles Day festivities set for Gwinnett
Come celebrate America Recycles Day with the Gwinnett County Solid Waste and Recovered Materials Division on Saturday, Nov. 19, 9 a.m. to noon, at the Coolray Field, home of the Gwinnett Braves, 2500 Buford Drive, Lawrenceville.
This event will feature electronics and tire recycling, toner/ink cartridge collection, kids activities, and more. Please bring your old sneakers and gently-used clothing to be donated to those in need or recycled into new products.
Those interested in volunteering for the event may sign up at www.volunteergwinnett.net.
For more information, please call the Solid Waste and Recovered Materials Division at 770-822-7141.
Kids invited for breakfast with Santa at Historic Courthouse
Enjoy a delicious hot breakfast with Santa onSaturday, Nov. 26, 8:30 to 10 a.m., in the beautifully decorated Superior Court Ballroom at the Gwinnett Historic Courthouse 185 West Crogan St., Lawrenceville.
Kids will make a craft and receive a keepsake photo with Santa. Register now, as this event sells out quickly. All ages are welcome. The cost is $13/person. Please pre-register online by Nov.23 using code GHC11501 or call 770-822-5450.
ROCKDALE
Monastery to offer last tour of the year
Learn more about the beauty and history of the inspiring community at the Monastery of the Holy Spirit on Saturday, Nov. 11, 1:30 p.m. to 4 p.m., 2625 Highway 212 SW, Conyers. The tour will highlight historical as well as architectural aspects of the grounds.
The cost is $10 per person. The tour is sponsored by the Arabia Mountain Alliance. To RSVP, visit http://themonasterytours.brownpapertickets.com.
Mobile food pantry and free ham giveaway set for Nov. 17
The Resource Center for Community Action, Inc. will host a community food pantry on Thursday, Nov. 17, 12 to 4 p.m., in the parking lot at the Cooperative Extension Building, 1400 Parker Road, Conyers. Volunteers will be giving out free boxes of food including a free ham while supplies last. For more information, call 678-288-5433, ext. 101.
State park offers Thanksgiving hike in the woods
Learn to cook your own Thanksgiving feast over a campfire during Panola Mountain State Park's Turkey Trek Night Hike on Saturday, Nov. 19, 5 to 8 p.m., 2620 Highway 155 SW, Stockbridge.
Enjoy a moderate hike. Bring your flashlight, jacket and hiking shoes.
The fee is $15 plus a $5 parking fee. For more information, call 770-389-7801.