Testingfg of Ads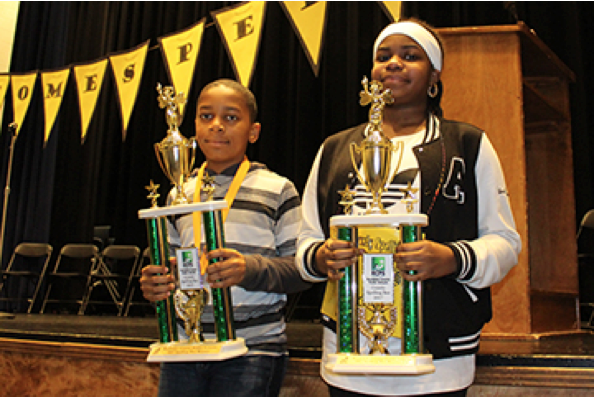 Pictured: 2017 Rockdale County Spelling Bee 1st place winner Aeneas Moore, a 5th grader at Barksdale Elementary, and 2nd place runner-up Allanah Stanton, a 6th grader at Memorial Middle.
Congratulations to the 2017 Rockdale County Spelling Bee first place winner Aeneas Moore, a Barksdale Elementary fifth grader, and second place winner Allanah Stanton, a Memorial Middle School sixth grader.
Contestants went head to head on Feb. 10 at Edwards Middle School for the right to advance to the regional bee competition and possibly the state competition.
This year's participants and their alternates were:
Dasani Harper #1 (alternate Nisa Washington) – C.J. Hicks Elementary.
Allanah Stanton #2 (alternate Johnathan Albaugh) – Memorial Middle.
Aeneas Moore #3 (alternate Nathaniel Reynolds) – Barksdale Elementary.
Dylan Allen #4 – Flat Shoals Elementary.
Zindzhi Evans #5 (alternate Ja'Kiya Thomas) – Honey Creek Elementary.
Allison Jones #6 (alternate Josh Comeau) – Lorraine Elementary.
Jayden Bailey #7 (alternate Ayden Vaughn) – Shoal Creek Elementary.
Jorri Murray #9 (alternate Jorunee Lackey) – Sims Elementary.
Rose Adams #10 (alternate Amairany Underwood) – J.H. House Elementary.
Kristy Cooper #11 (alternate Cyras McMillian) – Conyers Middle.
Kameron Bolton #12 (alternate Kamylle Norman) – Pine Street Elementary.
Matthew Thacker #13 (alternate Gabriel Edmonson) – Edwards Middle.
Kendyl Nimmons #14 (alternate Jahmali Hudson) – Hightower Trail Elementary.
Anthony Troms #15 (alternate Paige Missick) – Peek's Chapel Elementary.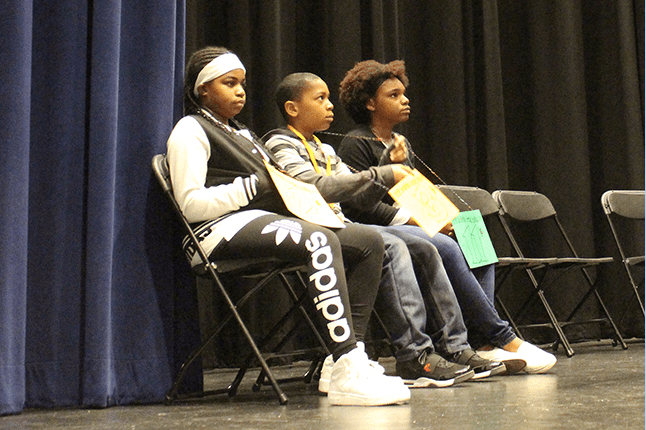 Pictured: The final three contestants before entering the championship round, seated left to right, Allanah Stanton of MMS, Aeneas Moore of BES, Kristy Cooper of CMS.
This year's pronouncer was the 2016-17 RCPS Teacher of the Year Kimberly Sanderson of Davis Middle School.
The judges who participated were RCPS ELA Academic Coach Sherry Boudreaux; RCPS ELA Coordinator Dr. Erika Tucker; RCPPS Education Assessment Coordinator Ranyatta Roland; and Spelling Bee organizers Audrey Champion and Mleeka Frank.