Testingfg of Ads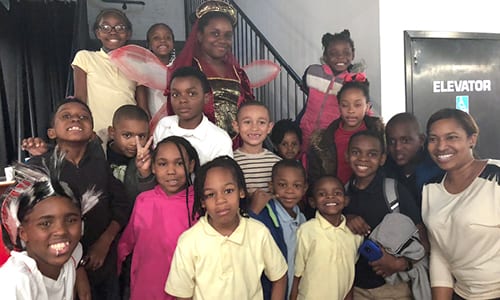 Twenty children who attend the after-school program at Lucious Sanders Recreation Center in Lithonia recently had the opportunity to attend the stage drama, "Cobweb Dreams." What made the outing so special? The kids got to see the Champion Middle School Drama Club perform the play at the ART Station in downtown Stone Mountain, thanks to the South DeKalb Rotary Club.
The Drama Club, under the direction of Drama Instructor Rwanda J. Hammond, performed "Cobweb Dreams, which was written by playwright Lindsey Price who sets the fun-filled fantasy that runs parallel to the events of Shakespeare's A Midsummer Night's Dream.
South DeKalb Rotary President Ceasar Gaiters said the outing marks the second year that the Rotary Club has supported the Lucious Sanders Recreation Center's afterschool program and Champion Middle School's Drama Club. Gaiters said he wanted to use his two years in office to expose more youths to the arts and he considers Champion's Drama Club top-notch.
"It was my pleasure to support Champion Middle School's Drama Club again this year," said Gaiters. "They are a very well-organized and talented group of students. Hopefully, some other organizations will sponsor some youths in the future for performing arts programs like these."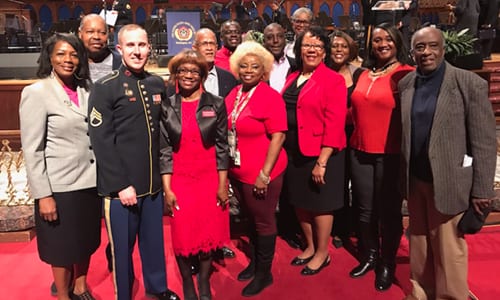 Angie Stone performs with U.S. Army Field Band and Chorus at House of Hope
South DeKalb Rotary Club members attended the Feb. 3 concert featuring Angie Stone and the U.S. Army Field Band and Soldiers Chorus, which was held at House of Hope Church in Decatur. The concert followed a resources fair for military veterans. The South DeKalb Rotary Club provides refreshments quarterly at the VA Medical Center at 250 N. Arcadia Ave. in Decatur and supports retired Marine Laveda Bennett, a Rotarian who coordinates volunteer services at the VA Center. The Rotarians also provide toiletries for veterans.