Testingfg of Ads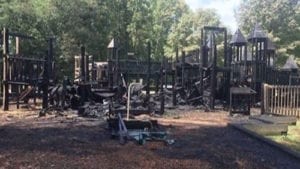 STONE MOUNTAIN –The DeKalb County Fire Rescue's Fire Investigations Unit and Stone Mountain Police Department have charged a 16-year-old with first-degree arson in connection with a fire that destroyed the playground at Jim McCurdy Park, located at 5190 Poplar Springs Road in Stone Mountain.
The teen, whose identity is being withheld because he is a juvenile, has been remanded to the custody of the DeKalb County Juvenile Detention Center pending further processing.
The arrest is the result of information received from residents regarding the fire that destroyed the wood-framed playground structure on Aug. 26 after 8 p.m. Information received by Stone Mountain Police detectives was sufficient enough to initiate a warrant for arrest carried out by DeKalb County Fire Rescue investigators.
There could be more arrests in this case, according to DeKalb County Fire Rescue investigators. Anyone with information pertaining to this ongoing investigation is asked to contact the Arson Tip Line at 800-282-5804.